Welcome!
Iowa Yearly Meeting (Conservative) is an association of Quaker meetings and worship groups in Iowa, Kansas, Minnesota, Missouri, Nebraska, South Dakota, and Wisconsin.
Upcoming Events
A note about traditional Quaker names for months and days of the week.
---
Scattergood Friends School and Farm summer programs for grades 5-9: Spanish Language and Culture.
Click here for details.
---
Seventh Month 30 to Eighth Month 4, 2013: Annual Sessions of Iowa Yearly Meeting (Conservative), Scattergood Friends School, near West Branch, Iowa.
News and Announcements
Job Opening: Development Associate for Friends General Conference in Philadelphia. Deadline is May 15. Download this flyer for details.
---
Scattergood School Farm Manager Mark Quee gave a terrific closing speech at the February 8, 2013 Practical Farmers of Iowa Annual Cooperators Meeting. You can read the speech on the PFI website or download a pdf.
---
IYM(C) Quakers on the radio! Rob Dillard of Iowa Public Radio featured segments on different religious groups on "Being in Iowa" the week of October 22-26. If you missed the original broadcast, you can listen online here to interviews with members of our yearly meeting as well as Iowa Yearly Meeting (FUM): iowapublicradio.org/
---
Read an AFSC blog post about the Scattergood School peace walk held on September 8: Moved and Shaken for Peace.
---
Here is a YouTube video of the barn razing at the Scattergood Farm during IYMC yearly meeting sessions last summer: Barn razing at Scattergood.
---
Read Deborah Fink's article on Iran in the Ames Tribune from 10-6-2012: "Maybe war-mongers need a waiting period"
---
The Iowan Sept-Oct. 2012, published a superb article highlighting 4 farms, and one of those farms was Scattergood's! Read it here.
---
More from Scattergood! Two recent stories from the West Branch Times:
Scattergood Marches Against Afghan War
2012 drought may lead to problems years from now
---
News from Scattergood School and Farm! Some recent bequests have been received by Scattergood's endowment, which now stands at over $4 million, which puts it among the top 15% of US boarding schools with a student population under 120. More details in this letter.
---
Learn about the Possibility Alliance, the intentional community associated with Silver River Worship Group in Missouri. From a local TV news story. http://www.heartlandconnection.com/news/story.aspx?id=793985#.UELANUKLOJ1
---
From the Earthcare Subcommittee, August 2012: Please read this letter from Jose Aguto, FCNL Legislative Secretary for Sustainable Energy and Environment, with many action suggestions and information sources on climate change.
---
Welcome to Laughing Waters Meeting in South Minneapolis, MN, now a preparative meeting under the care of Bear Creek Meeting. www.laughingwatersfriends.org
---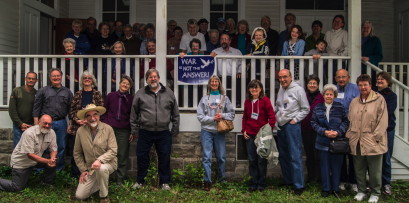 Click to see larger picture of the group at Midyear Meeting,
thanks to photographer Jeff Kisling.
---